Note For Note Cocktails and Dinner Music
Set the perfect tone for your event
The music at the beginning of any event should set the mood to get your guests enthused and primed towards having a good time.  Add a few cocktails, some tasty food and our song selections, and the rest of the evening will be set for success.  Most importantly your guests will still be able to carry on normal conversation because we GUARANTEE that our music will be the perfect volume.
Guests will hear favourites for all ages played in a way that is fun and familiar, but never boring.  They might hear Billy Joel, Frank Sinatra, Bob Marley, Michael Buble, Elton John and The Eagles all in the same set - with Ed Sheeran, Lewis Capaldi, Lady Gaga, Maroon Five, and Bruno Mars in the next.  We may even throw in some traditional jazz or a top 40 dance remix altered for the dinner hour.
Whether in trio form or larger, our background cocktails and dinner music will always set the perfect tone for your event.  Make this an add on to our party dance band here.  Contact us for a quote!
Sandy Vine Trio/4-7pc Background Music
Acoustic Duo
energetic music at reserved volume
Depending on the size of the event, the amount of space available, or the performance time required, sometimes all you need is a duo.
Our acoustic duo is perfect for low key events like conference registrations, restaurant patios, private backyard events, winery functions, convention trade show floor appearances, and any event that needs energetic and familiar music at reserved volume.  
Make this an add-on to our Contemporary Ceremony Duo should you require more music after the ceremony finishes.  Contact us for a quote!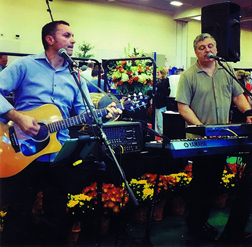 Acoustic Duo Pop & Jazzy Background Music
0:00/1:16

0:00/1:29

0:00/1:38

0:00/1:18

0:00/1:19

0:00/1:35

0:00/1:23

0:00/1:20

0:00/1:41

0:00/1:21
0:00/1:10

0:00/1:01

0:00/1:03

0:00/2:13

0:00/1:27

0:00/0:50