Our Contemporary Ceremony Duo
Modern love songs for your wedding
Let us help you create beautiful wedding day memories.  Our acoustic duo has the perfect background mix of music for you to exchange your vows.  Our "Contemporary Wedding" format is vocal based and features highly popular music selections for your ceremony.
Typically we perform for 20 minutes prior to the ceremony start as guests are being seated.  During the actual ceremony we also play: 
One song for bridesmaids/parents processional (if required) 
One Song for Bride Processional
One song (or two) for signing register 
One song for Bride/Groom Recessional 
 What we do not do:
instrumental only versions of any of the vocal songs we perform 
inappropriate song material (lyrics or messages that may not be appropriate for a wedding)
anything traditional/classical/Sacred based -  Pachelbel's Canon, Ave Maria, etc.  If you prefer a more traditional approach like this we can suggest other performers who specialize in this material. 
Please listen to the audio samples below and download our song list to see if we might be a good fit.  If after your ceremony you also require live background music for cocktails we can easily customize a quote to include both parts of your day. 
For music samples geared towards the cocktail hour please click here. 
Contemporary Ceremony Duo Samples
0:00/0:59

0:00/1:07

0:00/1:27

0:00/1:02

0:00/1:18

0:00/1:16

0:00/1:35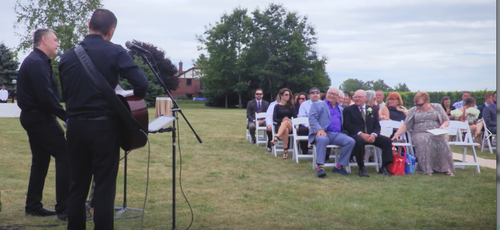 Contemporary Ceremony Duo Songs
Recent ceremony song additions
To Make You Feel My Love - Adele
Grow Old With You - Adam Sandler
And I Love You So - Don MacLean
Contemporary Ceremony Duo Video